Today is National Tim Tam Day. Apparently these are a really big deal in other countries, but here in America they aren't a grocery store staple like Oreos, so most of us have never had them. I, myself, am not entirely sure if I have ever tried an actual Tim Tam, although from pictures, I know it's some kind of cookie that's covered in chocolate. But will that stop me from trying to *make* them from scratch? No! No it will not!
I found this recipe, which seemed like a good one to follow. Basically you make a chocolate cookie dough, and you freeze that for a bit, and then cut it up and bake it and then set those aside to cool.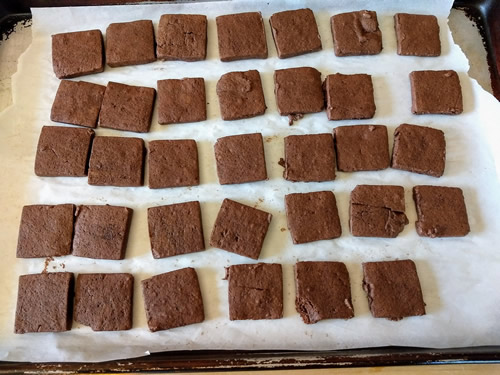 Yes, I know, Tim Tam purists, these are square and store-bought Tim Tams are rectangles, but the square cutter was a lot easier than trying to measure and cut these all by hand.
While the cookies are cooling, you mix up the filling, which is made with chocolate and malt powder. I would like to note, for the record, that I went out and bought malt powder specifically for this recipe. It's not an ingredient that's part of my normal repertoire.
Once the filling's all mixed up and fluffy, then you assemble the cookies by putting a big dollop of filling on top of one cookie and put another cookie on top of that. Then you melt up a big bowl of chocolate and dip the cookies until they're completely covered. Then those get chilled in the fridge until the chocolate sets, and poof, you have Tim Tams, or some vague approximation thereof.
Verdict: It's….an awful lot of chocolate in one bite (dare I even say too much chocolate), and it's a bit time consuming for what ultimately ends up only about a dozen cookies. Not sure it's worth making them again, although if I did, I'd try a different filling (perhaps a lovely salted caramel instead? Or peanut butter?), and also find a way to make the chocolate coating a *lot* thinner.
Making a thing a day for Thingadailies.