Many, many years ago, when my older sister and her husband were first married, my brother-in-law was accepted for a year's study at the Von Karman Institute of Fluid Dynamics in Belgium. This was a huge opportunity for him, so since they were still young and unencumbered, they packed up all their stuff and stashed it in a storage shed in my parents' back yard, found a friend to live in their apartment and take care of the cats, and headed off to Belgium.
My parents and my younger sister and I flew out to visit them, because how could we not? It was a wonderful trip – wandering around all these amazing, historic sites, wandering through buildings that were older than my own country and trying to soak in as much as we could in just a few days. The trip spoiled me completely for chocolate, because there is no comparing the chocolate over there with the waxy, too-sweet stuff I could get back home (although in the decades since, that has thankfully been slowly changing), and for bread (there is no comparing the tasteless packaged loaves sold in major grocery stores with what you can get from the tiny bakeries that were everywhere). And of course, there were the waffles.
When you think waffles in the US, you think of breakfast food. But in Belgium, they were snack food, and there were little street cart vendors everywhere, selling sticky-sweet waffles wrapped in grease paper. They were at once crunchy and chewy and absolutely divine.
On returning to the US, we started noticing some restaurants advertising that they offered Belgian waffles. Alas, much to our disappointment, these were not what we had had in Belgium. These, instead, were soft, floppy things with extra-deep pockets, but otherwise made of the same dough as any other ordinary breakfast waffle. My understanding is that 'Belgian' is the brand name of the original waffle iron with those deep pockets, and had nothing whatsoever to do with the country.
Decades later, the internets tell me that we were not the only ones who were let down by waffles of a similar name. What we didn't know at the time, but since have learned, is that the things we had in Belgium are actually known as liege waffles. Not that it would have helped us much, since liege waffles are, alas, not a 'thing' in the US, but at least knowing the name pointed us in the direction of recipes to try to make them ourselves for this month's #BakingSisters project.
There are a lot of recipes out there, but we used this one. This is a yeasted dough, and the recipe linked above had all sorts of extra steps, which meant that in order to actually cook waffles on our #BakingSisters day, we had to do a whole lot of prep work the day before.
First, you mix up a sponge of flour and water and yeast and let that sit for an hour, and then you mix in all the rest of the ingredients, including a whopping 11 tablespoons (no I am not kdding) of butter. That creates a lovely soft and silky dough that sits for four hours to rise, and then then goes into the fridge to rest overnight.
The next morning, the dough comes out of the fridge, and then – here's where it got messy – you take this very soft and sticky dough and you knead in pearl sugar. In some recipes you could probably swap sugar types with ease, but here, you really have to have the pearl sugar, because that's what gives liege waffles their signature texture and flavor.
After the pearl sugar is all kneaded in, next you divide the batter into six pieces and let it sit for another 90 minutes.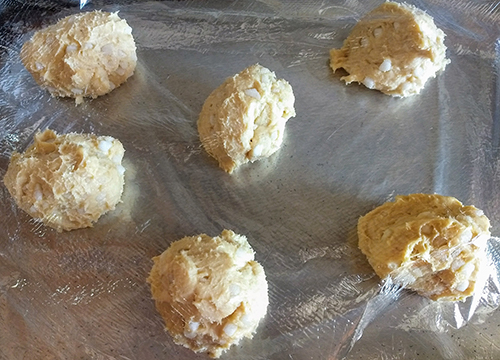 And then, finally, you are ready to cook them.
It took a couple waffles to get the hang of how best to cook them. My sister did hers in a Belgian iron (the kind with the deep pockets) but I just used a regular waffle iron. The first one or two were a bit misshapen and it was hard to tell quite how long to cook them (the recipe says 2 to 4 minutes). I started using the bottom of a pan to help press the top of the waffle iron down on the last few, in order to spread the dough out more uniformly, and that seemed to help.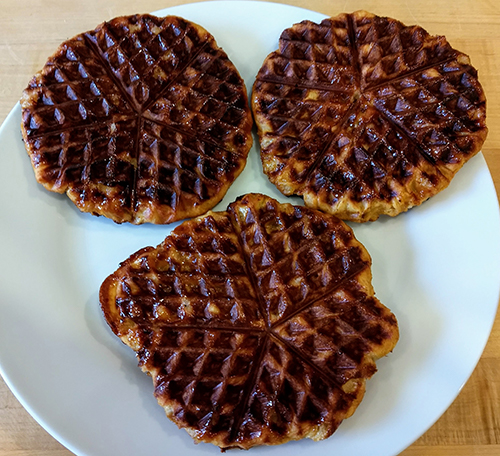 So were they everything we remembered, lo those many years ago?
Yes, I think so. A couple of mine got a little overdone, but they were still a good representation of what we remembered. The pearl sugar melts and creates these little pockets of caramel goodness on the outside of the waffle. It's not something I'm likely to make again, or at least not for a very long time (since it's time consuming and messy) but it was fun to take the first bite, and to reminisce about a trip, so many years ago.