The temperature gauge on my clock read 37 degrees as I drove out to the surgery center this morning to drop off a kitten for her spay, and when I got there, instead of lining up and waiting for the doors to open, everyone just stayed in their cars, heaters on, trying to avoid stepping outside until the last possible moment.
The fog burned off by mid morning, although it was still plenty chilly out the rest of the day. I spent most of the day huddled downstairs with extra layers, working, but took a short break in early afternoon to go pick up the kitten from the emergency vet, now that he was feeling much better. That's one huge worry off our shoulders, although I think it's safe to say that he's now burned up at least one of his nine lives.
There wasn't much time for any sort of grand baking today, not with work and kitten schlepping, and rehearsal afterwards, and it's still pretty cold out there, so instead I decided to make another soup. Tonight's dinner was Carrot Orange Ginger Soup, or actually Carrot Tangelo Ginger Soup, since I figured those were close enough (and that's what we had in the fridge), paired with a few leftover lemon rosemary rolls from last night.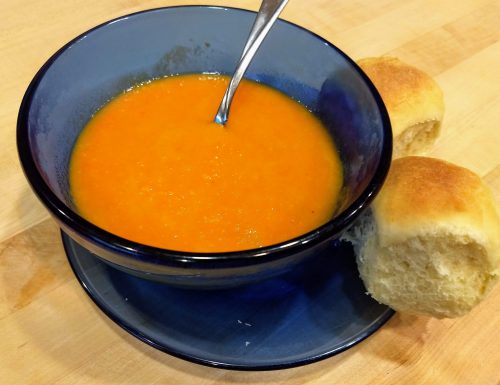 I really, really liked this soup. The flavors are interesting and complex – it's an odd combination of ingredients (carrots, tangelo juice and zest, ginger) but it totally works, and bonus, it's the sort of thing that's quick and easy to throw together when you don't have a lot of time to cook. This one's definitely joining the rotation for winter meals.
Citrus used so far: 4 lemons, 3 tangelos
Making a thing a day for Thingadailies.