Today has been a day to breathe a little easier. I did not think to bring his medicines when I dropped the little foster kitten off at the emergency vet so late last night, so that was first thing on my list this morning – at least, first thing after the usual slew of cat-related chores (fill the food and water bowls, scoop the litter boxes, snuggle the other foster kittens, check on the very tiny babies currently residing under our bathroom cabinet, etc.) We also took a little time to sit outside on the newly renovated back deck, drinking our coffee and watching a few of the cats explore the nearly-completed catio (yes, pictures will come, but later, once everything is complete).
Otherwise we've just been trying to catch up on everything that's been left to the side this past week. And for dinner tonight, since the pie from yesterday was such a (taste) fail, I decided to make a different form of comfort food – soup and rolls, because it's very hard to go wrong with those.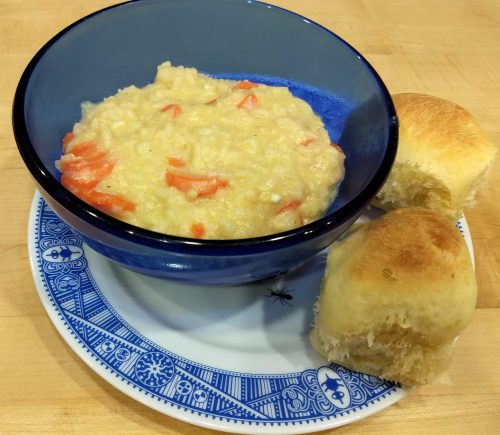 The soup was the lemon orzo soup we've made many, many times before. Turns out we didn't actually have enough orzo, but we did have risotto rice, so I used that instead, and while it ended up thicker than normal, it was still creamy and warm and absolutely delicious.
I also made these Lemon Rosemary Potato rolls to go with the soup. Conveniently, the rolls used up all the zest from the lemon I juiced for the soup, so that was a win. They smell a bit lemony, but the flavor is very subtle – you know there's lemon and you know there's rosemary, but mainly they're just soft and delicious, and the perfect accompaniment to dinner.
Total citrus used so far: 4 lemons
Making a thing a day for Thingadailies.