I had a plan for yesterday's orange thing, except that yesterday morning we got a call that our new-to-is car had arrived. We scheduled a time after dinner to drive out the CarMax in Roseville to pick it up, and figured since everything had already been taken care of, it would be a quick trip – plenty of time to make orange things once we got home. Ha. NOT.
On the plus side, buying a car online means significantly less time spent getting the hard sell for all the extra stuff they want you to pay for. On the negative side, we were still stuck there for several hours, because they took it off to be detailed and that took soooo long. So by the time we got home it was super late and I just didn't feel like trying to tackle anything in the kitchen.
But at least now we have a car – a 2017 sea foam green Prius. I drove it home and it felt just right – everything where I expected it to be (unlike the rental), with a couple huge improvements over my old recently squashed 2004 Prius – backup camera! Automatic bluetooth synching with my phone! Heated seats!
Anyway, today I made up for missing yesterday by making two orange things. The first was this scrumptious Orange Walnut Bread, which I didn't photograph because I got distracted by work and kittens, and ah well, just take my word for it, it's super tasty and if you happen to have some oranges floating around in your fridge that need using up, you should whip up a loaf of this right away.
The second was the thing I intended to make yesterday – Orange Sesame Brittle. The concept sounded very intriguing – who doesn't love a good brittle, after all. You toast the sesame seeds and zest an orange, then you make a caramel, and then you stir the seeds and zest into the caramel with some butter, and finally you pour it onto a pan and let it cool.
It certainly *looks* pretty.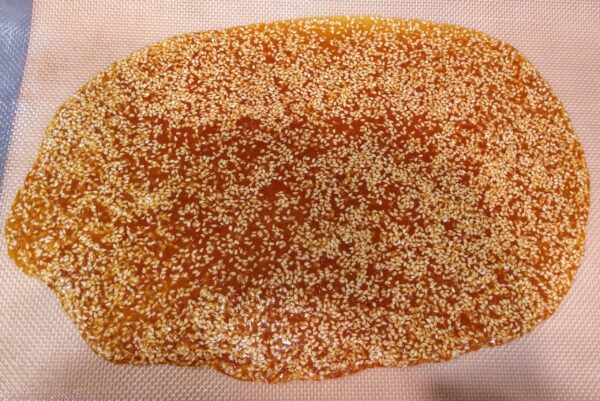 But once it was cooled and we broke off a piece to taste, we both looked at each other and shrugged. It's just….eh. It needs *something* – maybe some salt, or some additional flavoring? No idea, nor am I motivated to try to figure out what was missing. Ah well, not every recipe we try can be a winner. And at least the bread was a smashing success – yum!
Making a thing a day for Thingadailies.