Time for Episode Six of the Great British Baking Show, which was all about pastry. The challenges were: a dozen savory chouxnuts (choux pastry fried like a donut), baklava, or a terrine pie. By this point my sister and I were feeling a little overwhelmed by all the sweets, so we opted for the savory option, the terrine. However, because of my schedule I didn't actually get a chance to make it until after the Episode Seven pooptastic cookies.
A terrine pie, by the way, is made in layers and wrapped in a crust, so that when it's baked, it should hold its shape, and when sliced, you should be able to see the layers. Let's see how that went!
We both toyed with the idea of using a hot water crust pastry dough, except from previous experience, that stuff *stinks* plus it's kind of slimy to work with and neither of us really wanted to repeat that 'fun'. So instead my sister delved into her cookbook collection and found a recipe for a pastry-covered meat pie that used a regular butter crust, so we both adapted that for our pies. Otherwise, I pretty much just gathered up a bunch of ingredients with a vague plan in mind, and decided to see how it would go, without any sort of recipe to follow.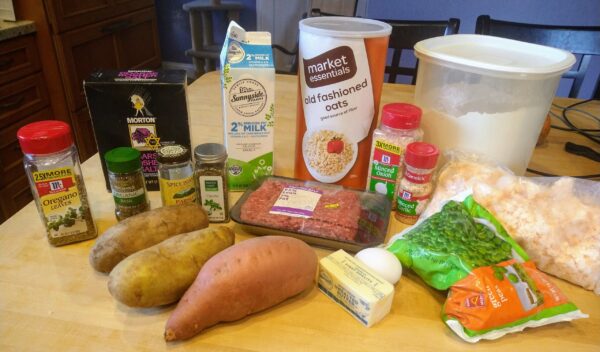 Because we were using a butter pastry, that meant most of the filling actually needed to be mostly cooked ahead of time. I made a little meatloaf, mashed some potatoes, and cooked up some sweet potatoes with a bit of garlic and thyme, grabbed the peas out of the freezer, and then assembled my pie in a bread pan lined with parchment paper. Technically we were supposed to make our pie decorative, but we all know how well that turns out for me, so as a nod to that, I did try to do a pattern in the top when slicing openings for the steam to escape. An hour or so in the oven later, and ta da!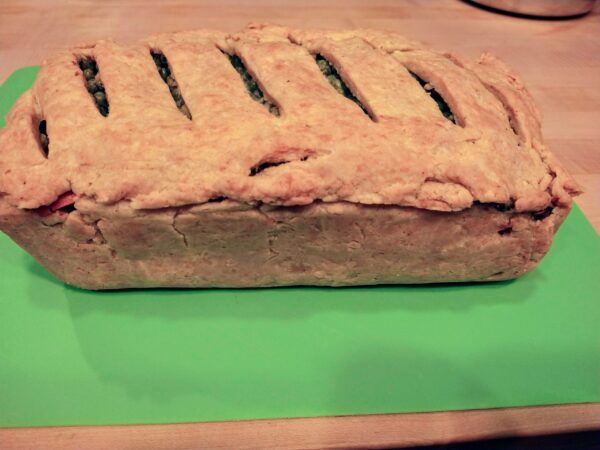 Look, a free-standing terrine pie with no leaks and no breakage! Woo!
And were there layers?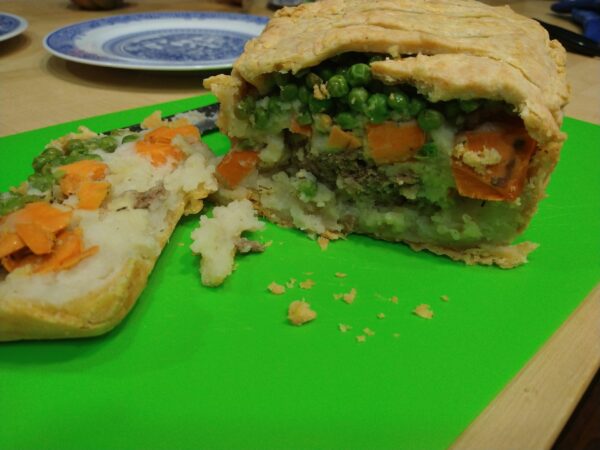 Yes! Yes there were!
Overall it turned out pretty tasty. Was it worth all the effort such that I will be making this on a regular basis? Eh, probably not, but Richard and I were quite happy to consume it for lunch for the next couple days so I call that a win.
'Tis the season for Holidailies.