When my sister and I discussed what to do for Alaska, we tossed around a couple ideas. Technically the official recipe is a salmon pie made with a puff pastry crust, but my sister is not a fan of fish. So instead we decided to make sourdough the over-arching theme, since that's a common thing up there.
Obviously we had to make sourdough bread, but if you're doing true sourdough, you do not use commercial yeast, but instead use a starter that you've either nurtured for years by carefully feeding it (cough cough, kept in the fridge and fed once every month or three when I remember it's there), or something you throw together quickly because your old starter died (my sister).
I got my sourdough sponge started Saturday afternoon. Before I went to bed, I mixed up the dough, then put that into the fridge. After that, it seemed like a good idea before the fact to plan to get up at 5am and pull it out of the fridge…except that I forgot that it was Daylight Saving Time day, and that meant it was actually 4am (no matter what the clock said) and since I'm going through another round of super fun insomnia, that meant I was riding on roughly 3 hours of sleep. Fun times!
But anyway. Dough comes out of the fridge, then gets shaped, then gets set aside for another couple hours, so that by the time we were ready to meet via video call, all we had left to do was pop it into the oven.
This is where things got interesting for me. For years my oven has taken just a couple extra minutes to bake things. But during an attempt at making cookies last week, things were taking more than twice the normal time to bake, and after we bought a hanging thermometer, we discovered why. The oven is now heating roughly 100 degrees lower than the dial says.
So I turned the oven up as high as it would go (500), put my boules on the bottom rack, and crossed my fingers.
Thankfully, they baked, although they aren't as browned as I might have liked.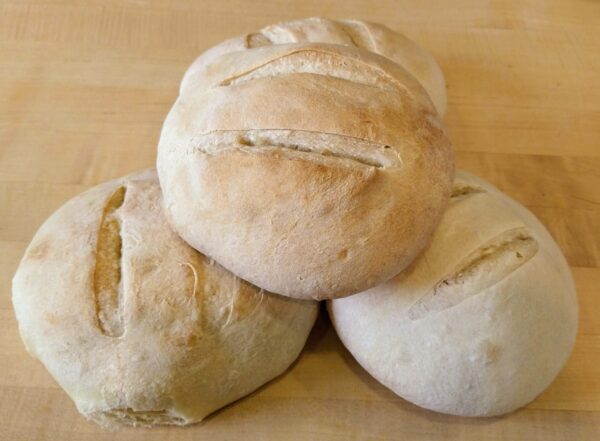 But one cannot live on bread alone (ha!), so we also made cake and cookies, both of which used sourdough starter, and also soup, which did not use sourdough starter, but was instead to join the bread for lunch.
First up was the soup. I decided to make this Cheesy Broccoli Soup based solely on the fact that we had a lot of broccoli in the fridge that needed using up. So while I was waiting for the oven to come to temperature, I threw all the soup ingredients together and got that simmering. I also stirred in some leftover chicken sausage, because soup is an excellent way to clean out the fridge.
Next up was a Sourdough Chocolate Cake. This cake involves a sponge that's stirred together a couple hours before you're ready to bake it, with sourdough starter, flour, and water. Once it's baked, then it's topped with an espresso buttermilk glaze. It's also supposed to be drizzled with some melted chocolate, but I decided that that was a bit overkill, so left that out.
And finally, the cookies – Sourdough Soft Ginger Cookies from Ruth Allman's book Alaska Sourdough. These are spiced with molasses, ginger, cloves, cardamom, and lemon zest. They were supposed to be cut-out cookies, but by the time we got to them I was starting to wear out, so I just pulled out a cookie scoop and made ginger lumps instead.
So how did everything turn out?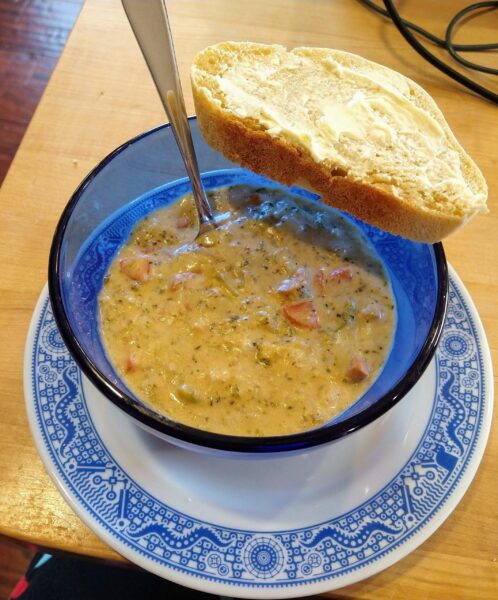 The soup was super tasty – the addition of the sausage worked really well, plus since I doubled all the veggies it was quite filling and substantial.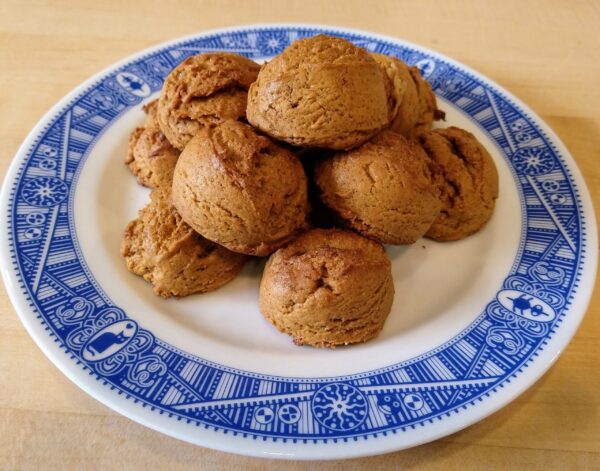 The cookies will not win any prizes at a beauty contest, but they're actually really tasty. I would definitely make these again – super quick to stir together and they hold their shape really well so would work for either scoops or cut-outs.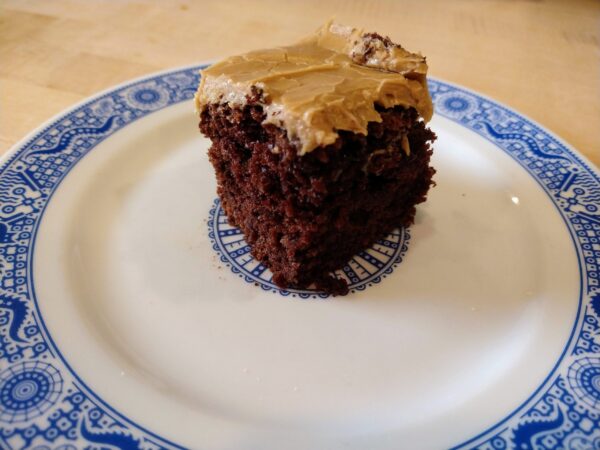 Aside from being slightly burnt on the sides (see above for my oven temperature woes), the cake was delicious. The addition of the buttermilk and the espresso powder kept the icing from being too sweet (which is usually a problem with glazes).
Oh, and because all of that wasn't nearly enough, I also made Sourdough Cinnamon Crumb Cake for breakfast before the official baking extravaganza started, primarily because I'd doubled my starter in preparation and had a lot to use up to get it back to a manageable amount before it goes back to lurk quietly in the fridge for another couple weeks.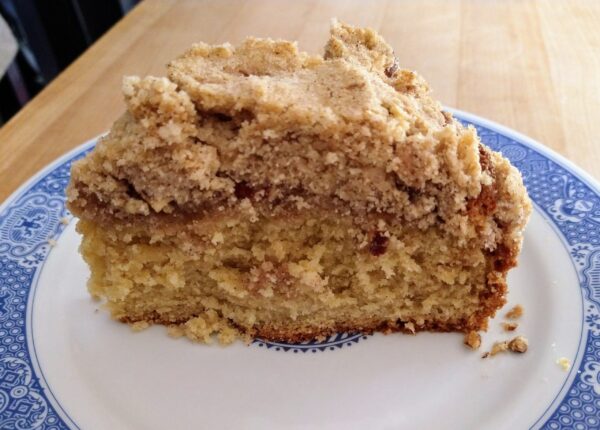 This was…a lot of crumb topping (and I didn't even make the full amount the recipe called for), but it's delicious and so I can forgive the mess involved in eating it.
Overall, this was an extremely successful baking day, even if I did have to do a bazillion adjustments with oven temperature in order to get things to cook.