I had a lot of things to try to get done today, least of which was to finally deal with the remains of the 20 lb box of apples sitting on the kitchen counter (half of which had already been turned into pies and apple butter). But instead I remembered that I'd bought a bag of cranberries for Thanksgiving, intending to turn them into a cranberry curd tart, but that never happened.
So I put the cranberries in a pan with the juice of an orange (which I zested first because one should never pass up the opportunity for some citrus zest), simmered them until they popped, then strained them and put the resulting pulp into a pan with some butter, eggs, egg yolks, and sugar. That was then cooked down into a lovely purple curd.
Next I pulled out the little dome molds my sister and I bought a year or so ago, and painted the insides with some melted white chocolate. Then I baked up a dozen sable cookies, with the orange zest included, and made a batch of marshmallow with the egg whites left over from making the curd. And finally, I scooped a little marshmallow into the white chocolate shells, dolloped in a tiny scoop of cranberry curd, and then topped them all with a cookie.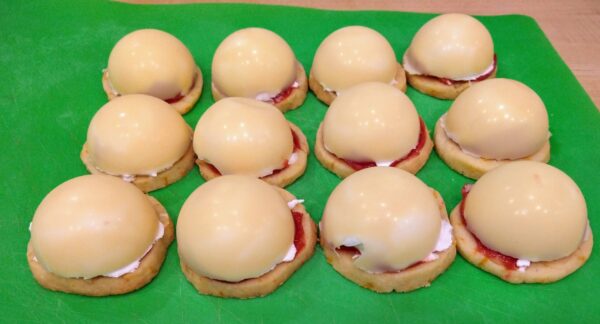 An interior shot, so you can see the layers.
The idea for these was inspired by the Walnut Whirls from the GBBO finale, but I started thinking about all different kinds of flavor combinations besides walnut and chocolate, plus the cranberries were just sitting there, waiting to be dealt with, so…why not?
Verdict – they're not the prettiest of cookies – I could certainly work on my chocolate technique – but overall I'm pretty pleased. Admittedly if you took a bite with your eyes closed you would never guess that cranberry is involved (or orange, for that matter), but there is a decided 'citrus' feel to them, and the tartness of the cranberries in the curd tempers the sweetness of the marshmallow quite nicely.
'Tis the season for Holidailies.